This is the way it looks when our Shadi is asking Jane to play and sometimes he is lucky and our Jane chases with him back and forth across the garden. Not in a dream we would have expected that at the end of that day our Shadow's life was in real danger.
In the evening when we went for a walk with our two Akitas, we noticed that Shadow was different than usual, he turned around again and again, did not run as rapidly as usual, was not as enthusiastic as usual. Back home he did not find any rest, laid down, stood up again, ran through the apartment and started to whine. This restlessness got stronger in the following hours, so then we already knew and suspected something serious, we could not wait for the night. At half past 11, we drove to our vet and after x-ray our assumption was confirmed. Bloat (stamach torsion) - a nightmare for all dog lovers.
The good thing was that Shadi's circulation was still reasonably stable. But nevertheless, the statistics say a quarter of all the dogs with a bloat do not survive. Shadow was operated immediately and you can hardly imagine how bad the time was that we had to wait now. And then finally, the vet called and redeemed our tension with the news that Shadi had survived the op well and was waking up slowly.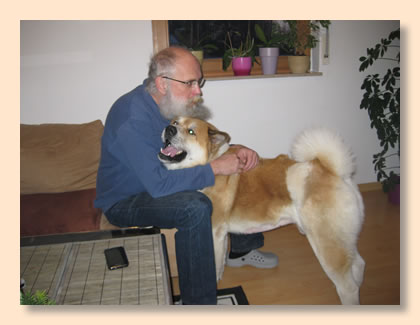 This nightmare was 9 days ago. In the last week it went better with Shadi , every day a bit, and now he is almost the old one. Almost, because he eats his food slowly and with caution now. Our vet even joked that we had spoken a serious word with Shadi, that he no longer swallows his meals.
Right before Christmas our greatest wish has already come true, we have not lost our Shadi and we wholeheartedly thank our vet doctor Mr.Dziwok and his team.
5 Comments