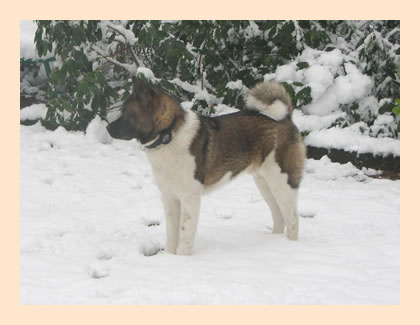 25. November 2008
Here Hanko is 9 months old. As you can see he has grown a lot.
First snow was a big experience for him and his roots of a northern breed appeared when playing in the snow.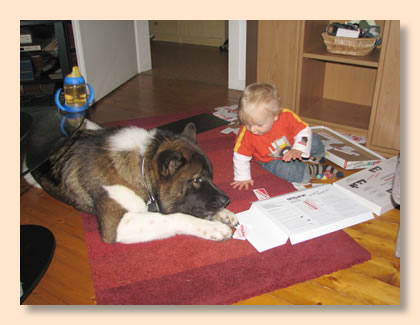 Two close fiends - Hanko and little Ben.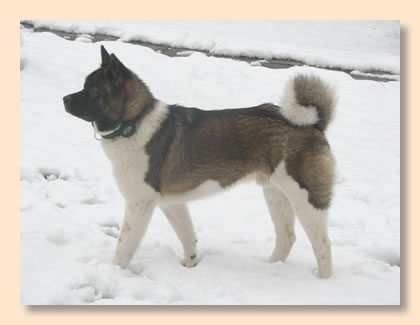 At the moment he has got a weight of 39 kilos.
He still likes playing with other dogs in his dog school, however, practising exercises there is not one of his favourites.
17. September, 08
Hanko 6 months old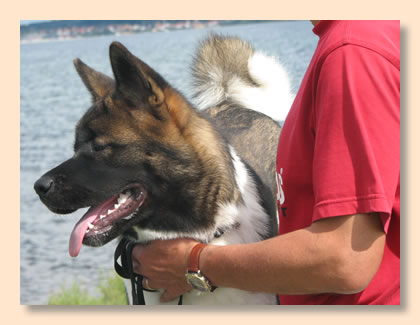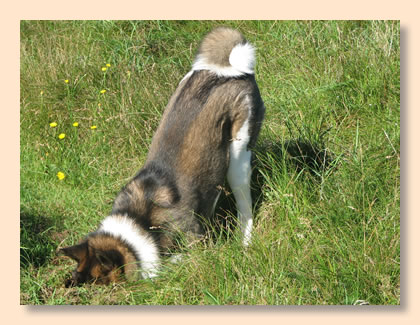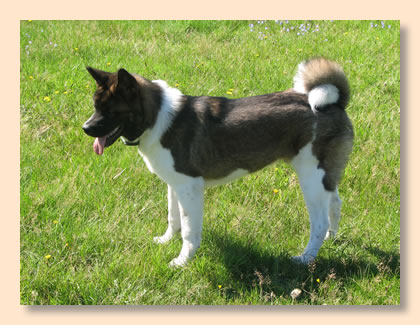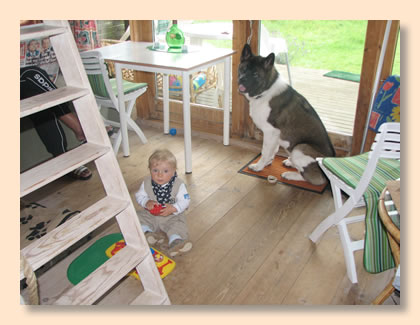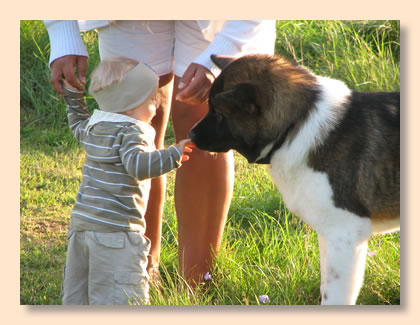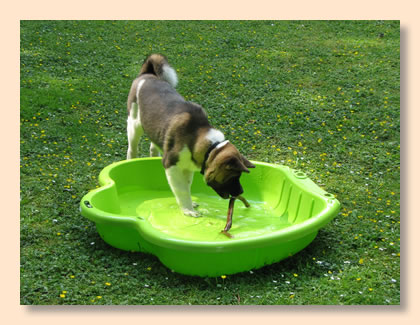 20. Juni, 08
Hallo Michaela, hallo Olaf...
recht herzliche Grüsse aus Schwelm, ganz besonders aber von unserem Wonneproppen Hanko.
Ruhig geworden ist es auf eurer Homepage. Der Macht der Gewohnheit folgend klicke ich täglich einmal rein und bin dann immer wieder erstaunt über die nur wenigen Rückmeldungen bzw. Infoberichte speziell des letzten Wurfes. Na ja, jeder hat wahrscheinlich sein tun und konzentriert sich jetzt voll auf seinen Hund.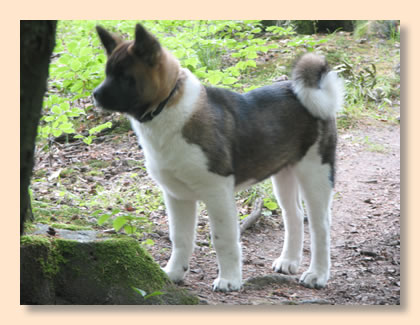 Bei uns ist alles paletti, keine Neuigkeiten, Hanko macht sich sehr gut, ist jederzeit aufnahmebereit und wissbegierig. Wo er nicht hinhören will, hört er auch nicht hin und manchmal hat man das Gefühl er habe die Ohren auf Durchzug gestellt. Aber wenn man den "Umstand" dann interessant macht, egal durch welche Laute, Verrenkungen oder auch Leckerchen kann man ihn immer wieder aus der Reserve locken.
Geimpft, auch gegen Borriliose - hoffe es richtig geschrieben zu haben - Zeckentropfen und ein rundum positives Abschneiden bei der Tierärztin lassen uns auf einen schönen Sommer hoffen.
Wir füttern z.Zt. noch dreimal, insgesamt 500 gr, ein wenig Obst und natürlich Leckerchen. Gewicht am Montag waren 20,3 kg. Die Umstellung auf anderes Futter - SELECT GOLD JUNIOR aus dem Fressnapf - hat problemlos geklappt
Ja, das war´s erst einmal wieder von uns. Würden uns freuen von euch zu hören und wir wünschen euch und allen Vierbeinern jetzt eine schöne Sommerzeit und vor allem Gesundheit.
Bis dann
Ute und Werner