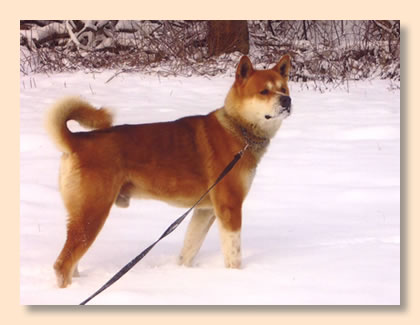 Hello Michaela and Olaf,
After a long time we want you to get some pictures by our HERO.
As you can see, he has become a handsome male. He has now been 5 years old and the time that all passersby could pet him, is over.
He now has his own will and he has a girlfriend here in the street.
We have a lot of fun with him and he is a lovely dog. Hero likes to travel by car very much and enjoys nature in the meadows and forests with us.
The shrubs and the icy waters are also his elements.
Every day we experience new things with Hero and it enriches our lives.
Not laughing at us now, but he tries to talk to us and gets very deep sounds out of his stomach and all attendees must laugh.
Hero is a very loyal Akita and guards the front door, gate and grounds. If I'm alone in the house, he often sits with his back to the door and protects me until Ernst's back.
Many greetings from Riesa by Ernst and Barbara