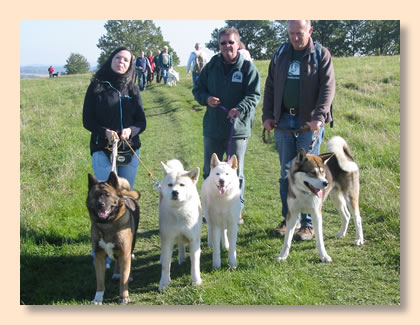 14th October 2007: Ginkou and her family at a hicking tour in the Saxon Switzerland. Mum Jane and Granny Chey (left) and Dad Eichiro (right). Ginkou is growing more and more. Meanwhile her weight is almost 30 kilos.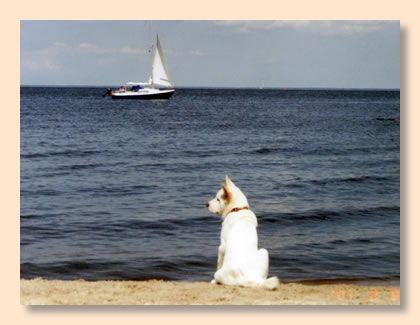 Vom 22.-27. Juli war Ginkou im Urlaub in Ückermünde am Stettiner Haff. Diese Bilder schenkte uns ihr Frauchen Raina.
"Schwimmen müsste man können."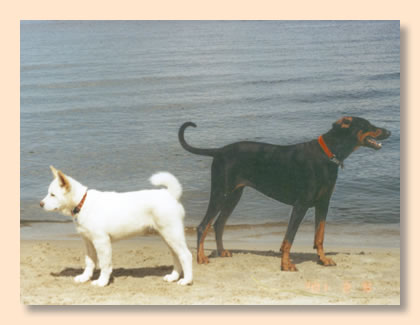 "Wo gehts nun lang?", fragen sich Ginkou und Sunny.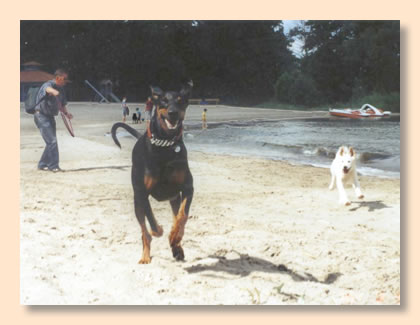 "Wer ist die Erste?"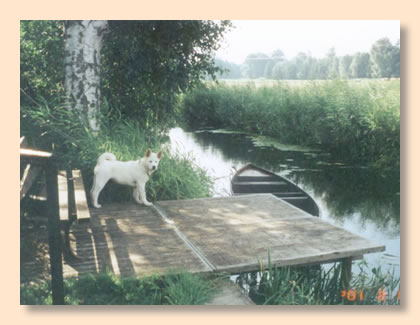 "In den Kahn steige ich nie ein."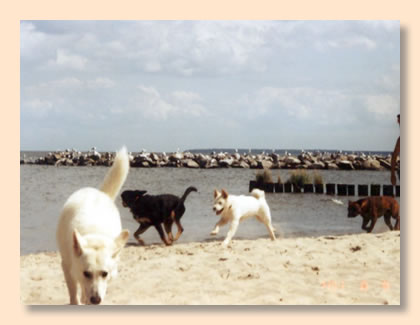 Ginkou und Sunny toben mit einem Schäferhundrüden am Hundestrand in Ückermünde.
Die ersten Tage
Eine erste Nachricht von Ginkous Frauchen Raina erreicht uns bereits am 04.06.2007:
Hallo Michi und Olaf,
ein müdes Lebenszeichen von uns und eurer wilden und furchtlosen Hummel,
die Spätmahlzeit verschläft sie, so ab 20:30 bis 3:30 dann pullern, schlafen bis ca. 5:30. Das ginge ja, aber Sunny hat ja andere Zeiten, aber das wird schon. Gestern hat sie so 150g gefressen -langsam- . Einen Jack Russel hat sie gestern vor sich her gejagt, der wusste gar nicht wohin um sich zu verstecken. Auch mit Sunny ist sie nicht zimperlich. Mit den kleinen und großen Geschäften klappt es prima.
Viele Grüße Raina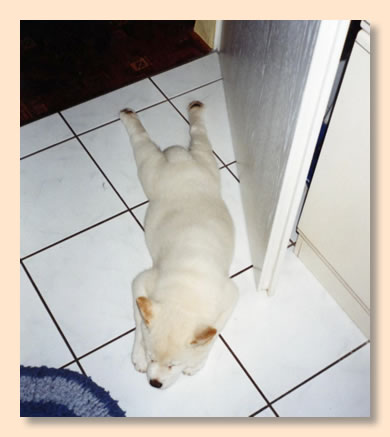 22.06.07: Inzwischen ist Ginkou schon 3 Wochen in ihrem neuen Zuhause bei Lutz, Raina und Sunny und hat sich dort gut eingelebt. Wir konnten sie schon zwei mal bei der Welpenstunde wiedersehen und die Freude war natürlich groß. Ginkou ist schon ein ganzes Stück gewachsen und wiegt nun auch fast 9 Kilo.
"Mein liebster Schlafplatz."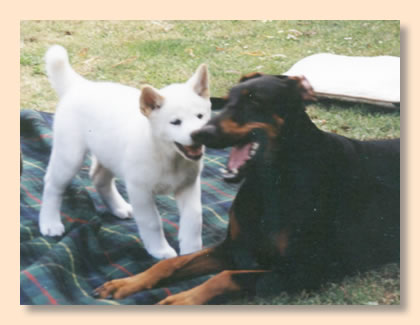 "Ich brauche keine Pause und könnte immer toben."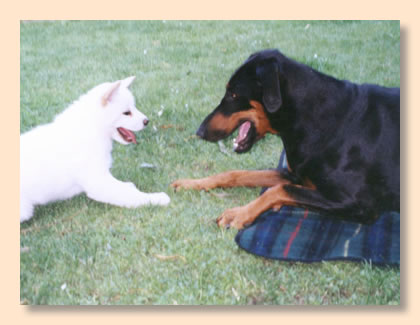 "Am liebsten schleiche ich mich an Sunny ran."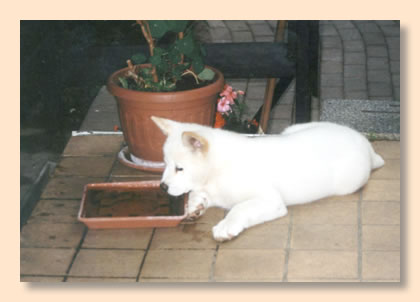 "Im Liegen schlappern ist ideal."