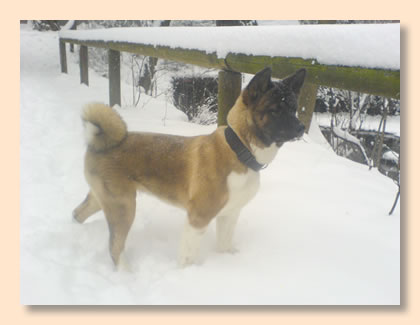 27.01.2007: Heute bekamen wir wieder einmal Post von Faizahs Herrchen Brian. Wie man auf den Bildern gut erkennen kann, ist Faizah inzwischen eine kleine Dame geworden. Ihre erste Hitze hat sie bereits hinter sich. Das schrieb uns Brian:
Hello Michaela und Olaf,
I hope all is well for your family and loved ones. I am attaching a foto here of Bopper from this past Wednesday. In spite of the fact that we had not seen snow this winter, Bopper and I took a trip east to nurnberg where she was able to enjoy her first sprinkle of frozen crystals.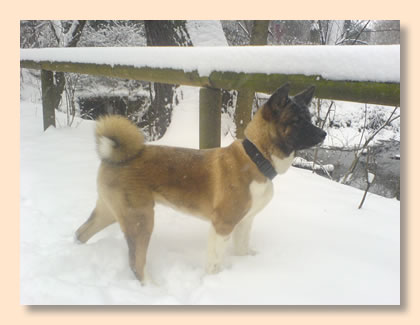 True to the fact of Akita's, Bopper absolutely loves the snow. It will be hard to determine which she loves more, snow or water. But i will be sure to accumilate many fotos to share and compare. Here are two I took with you in mind. 1 shows her size and how she is maturing very nice and the other is a playful and very cute picture after she got to eat some of her first snow.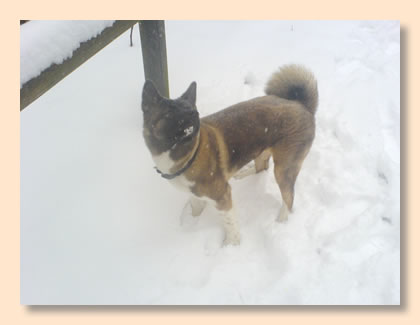 Also if you notice, I personally cut Bopper's coat approximately 4 days prior to these fotos. Her undercoat is much more colorful, bright, and vibrant versus her much darker outer layer. I think you can get a very good understanding of what I am referring to in these fotos as they were taken from differant angles only 1 minute apart.
Always your friends,
Brian and Katrin