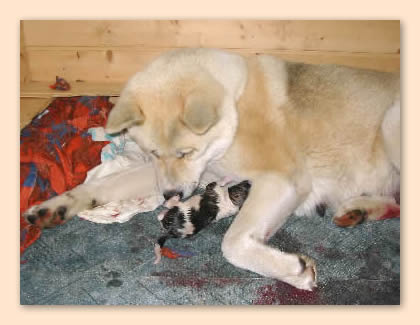 Date Whelped: 6th May, 2002
At 5 p.m. Chey's one puppy was born. Here the very first photo. It's a male.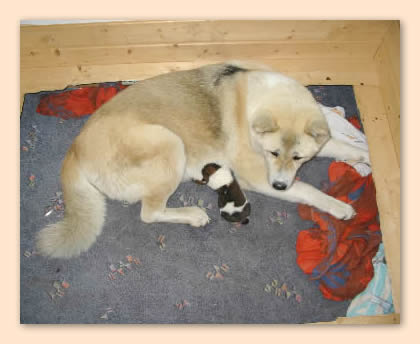 This time Chey really kept us on tenterhooks. On Sunday evening she did not want to come into our house - she still wanted to stay in the puppies' room where we have a special box for her. We stayed awake all night but nothing happened.The next day we had to wait till 5 p.m. and - good things come to those who wait - our first puppy was born. Since there didn't come any further puppies till 7.30 we were worried about possible complications and went to the vet. Chey was X-rayed with the result: There wasn't any other puppy. Now it was clear that she only had this one male puppy. Of course we were a bit disappointed as we had hoped for several babies but we were glad,too, since there weren't any serious complications with Chey and her/our little puppy was quite strong and healthy.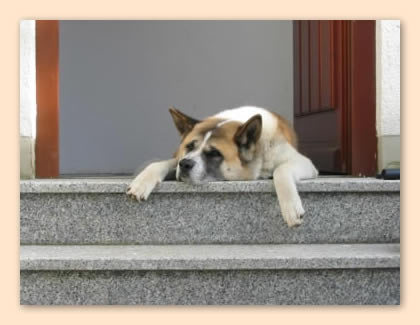 This time Bruno was involved, too - he guarded at the door.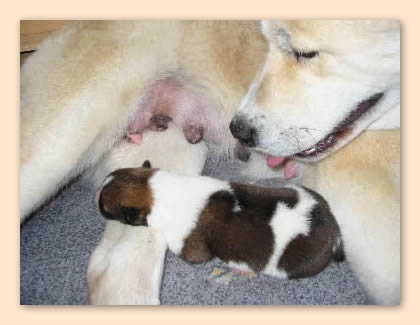 We thought about getting some more puppies which maybe needed a new mother. Firstly this could help somebody who has lost a lactating female dog and secondly it would be better for our baby not to grow up as an only child. Unfortunately we haven't found anybody.