23. November 08
Today there are some new pictures of Goya. Meanwhile she is 19 months old.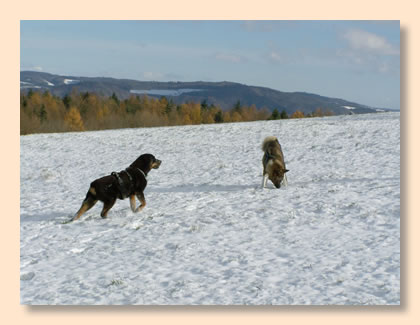 Goya and her friend Mogli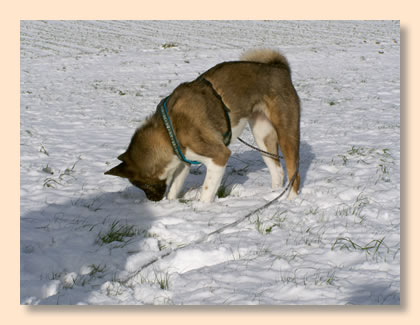 Goya's hunting instinct is really strong. It's always a challenge for Sandra and Stefan to keep her under control when there is deer near them.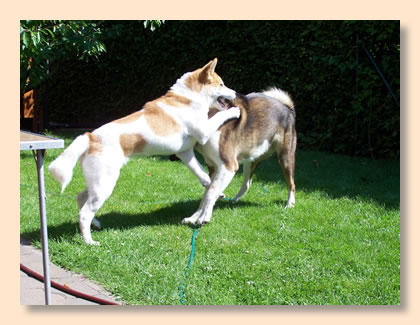 10. August 08
Hallo Michaela und Olaf,
zuerst möchten wir uns für den netten Tag bei Euch bedanken. Es hat Spaß gemacht. Goya hat auf der Heimfahrt tief und fest geschlafen.
Nun sind wir wieder daheim und es ist Zeit die Fotos zu sortieren und es sind verdammt viel.
Hira haben wir natürlich auch besucht.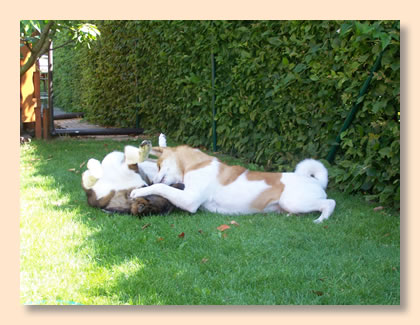 Wir konnten es kaum erwarten, daß Mädel mal live kennenzulernen. Sie ist eine ganz freundliche und tempramentvolle junge Dame. Goya und Hira haben sich auf Anhieb gut verstanden, man könnte fast meinen sie sind übereinander hergefallen. 😉 Streit gab es zar auch mal, aber da wurde halt mal ein Machtwort geredet und schon war es wieder vergessen.
Hira paßt auch noch unter Goyas Bauch durch, das war einer von Hira Lieblingstricks beim Toben. Beim nächsten Besuch wird das wohl nicht mehr gehen.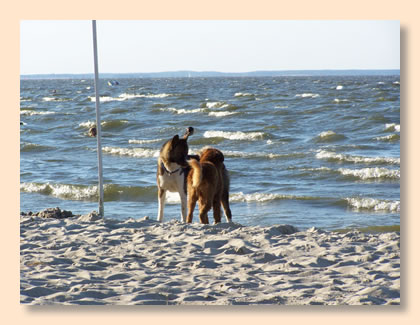 Da wir Superurlaubswetter hatten waren wir auch oft am Wasser. Goya hat es aber gereicht wenn sie sich abgekühlt hat. Zum Schwimmen konnten wir sie nicht überzeugen, macht aber auch nichts. Wenn wir geschwommen sind, hat sie uns immer nur ziemlich bedattert hinterhergeschaut. Ihr war wohl nicht so ganz klar, was wir da machen.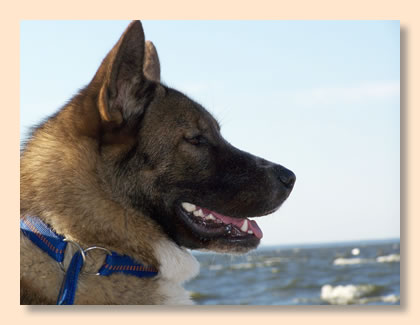 Mit dem am Fahrrad herlaufen haben wir jetzt auch angefangen. Sie hat eigentlich ganz schnell kapiert, was von ihr verlangt wird. Das "Hooo" zum Anhalten kennt sie vom Reiten her, aber ich war doch erstaut wie sie es verinnerlicht hat, sie hat sofort Blickkontakt aufgenommen und ist langsamer geworden.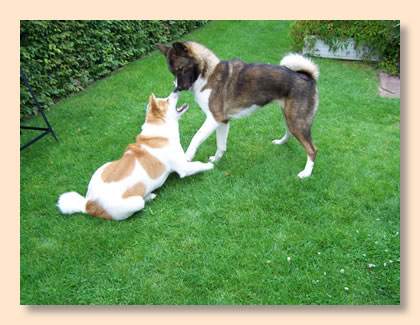 Im Tierpark waren wir auch einmal. Allerdings wollte Goya sich da in den Streit bei den Wölfen einmischen. Peinlich...bloß schnell da weg. Naja,aber man kann ja nicht immer nur gute Tage haben.
Viele Grüße
Sandra und Stefan mit Mogli & Goya