19th December
Joshi and Julius like the snow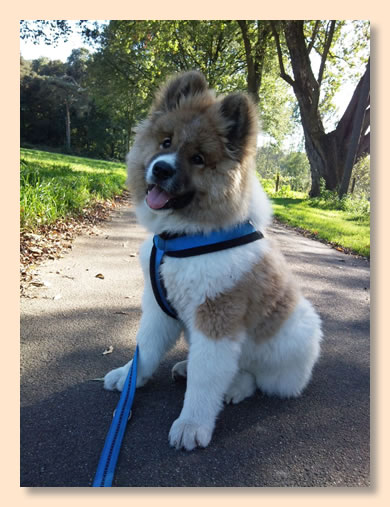 16. Dezember
Hallo Ihr Lieben,
viel zu lange ist unsere letzte Mail schon her, und trotz der späten Stunde möchte ich Euch doch über Joshi berichten!
Was habt Ihr uns da nur für einen Burschen gegeben ;-)??? Wir waren von Akira ja extrem verwöhnt ! Joshi hat uns den Zahn seit ein paar Wochen gezogen ! Wir sind in der wirklichen Akita Realität angekommen 🙂 !
Wir müssen aber auch dazu sagen, dass er aufs extremste pubertiert ! Bin ich froh, dass ich bei den Jungs noch Zeit habe!
Aber Joshi kostet mich im Moment alle meine Kraft ! Er pöbelt rum, macht einfach alles kaputt, rülpst ständig und findet sich dabei auch noch großartig 😉 ! Ihr seht wir haben eine Menge Spaß mit Ihm! Er ist nun 25 Wochen und hat am 6. Dezember 21,7 kg gewogen, die Größe reichen wir nach, aber er ist unwarscheinlich in die Höhe geschossen ! Und immer noch ist er unser Flauschi 🙂 !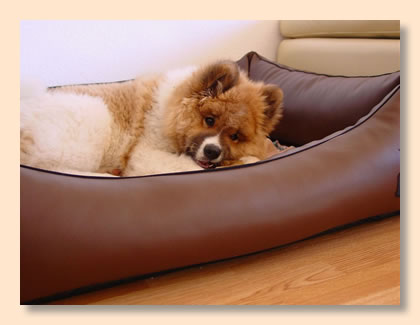 Das Futter haben wir diese Woche umgestellt, er bekommt nun das von Euch empfohlende Futter und er frißt auch dies wie ein Staubsauger! Eigentlich mag Joshi alles, gerne auch CD`s, Sauger von Jonathan`s Fläschchen oder Kerzen, nur den Docht spuckt er fein säuberlich aus ! Letzte Woche hat er damit begonnen die Holzfensterrahmen von dem Balkon zu fressen ! Da ist mir dann doch anders geworden, denn der Schaden ist wirklich heftig! Eigentlich wollten wir im nächsten Jahr umziehen, aber nun müssen wir wohl für immer hier bleiben 😉 !!! Da muss ich mal einen Schreiner drauf gucken lassen ob da noch was zu machen ist und wie! Es war die Rache weil ich ihn zum Einkaufen nicht mitgenommen habe ! Aber eigentlich ist es egal ob ich zum Einkaufen, Arzt oder nur eben untem beim Altpapier bin ! Ich kann 1 Stunde oder 3 Minuten weg sein, er sucht sich was was er kaputt machen kann ! Und da in der Zwischenzeit nichts mehr hier rumliegt, geht er halt an die Holzfenster 🙁 !! Ich hoffe noch, dass sich das legt, sonst ziehen wir bei Euch als Untermieter ein, denn Joshi hat bis dahin sicher alles aufgemampft 😉 !!
Seid lieb gegrüßt und drückt die Hundis von uns
Tanja, Jan und die Jungs mit Lotta und Joshi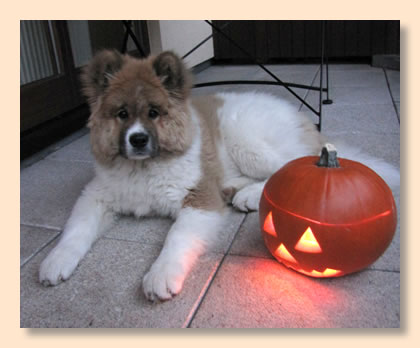 31st October
Tanja writes: Joshi has already learned so much and it is a lot of fun to see his progress. In dog school, he really is very active. Today, he has beatufully played with Paul, a boxer dog! Both of them like each other from the first hour! And although at the beginning Joshi was anything but careful with Paul, now they are really great with each other.
Even at home he is sweet, makes less and less broken ;-)! And now and then he lies with Lotta in the basket.
She looks still somewhat confused, but it can be! Then Joshi licks her ears full of devotion, or brings his toys!
With the kids it works great too. Julius is totally crazy about him and is not a little anxious! Jan and I are more than happy about that. We love our fluffy a lot :-)! He is such a great dog!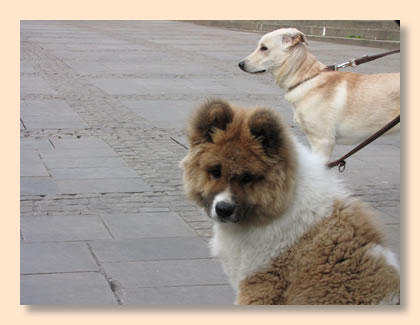 Dog training in town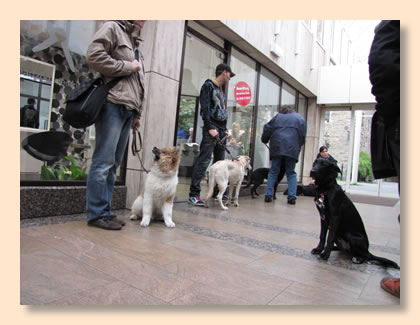 Attentive Joshi