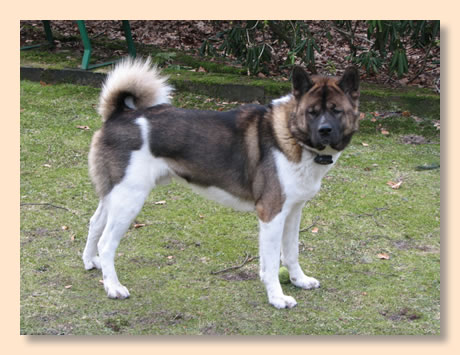 Just in time for the 3rd birthday we received birthday greetings today from Hanko's owners, and we want to take this opportunity to pass these wishes along. There's also a Hanko-description - an American Akita just as it appears in the book with all its advantages and disadvantages.
And Hiras family as well joins the birthday wishes with words and pictures. Enjoy watching.
Hello Michael, hello Olaf ...
like every year the best birthday wishes from Schwelm to you and all 3-year H-litter-Akitas and their owners.
One would think, finally grown up, but at least in Hanko we do not feel as if he understands this.
Playful as ever, family-friendly as ever, dominate over other dogs more than ever and a great hunter like a cat.
But a fine fellow whom you must take as he is.We have a lot of fun with him, but he also makes a lot of stress for a
walk. Off leash only in exceptional cases and for specific games. A squirrel and 3 voles are the result for have been hunting in January. Other males will be best out of the way, no male is accepted, neither a small Pinscher nor a huge Schnauzer.
Otherwise everything is good, no special news. We regularly read the latest reports and pictures on your website and
have lots of enjoyment. Maybe we are going to visit you in the summer time for a day or two.. Until then, good luck and a lot of "greetings" to your Akitas.
Ute and Werner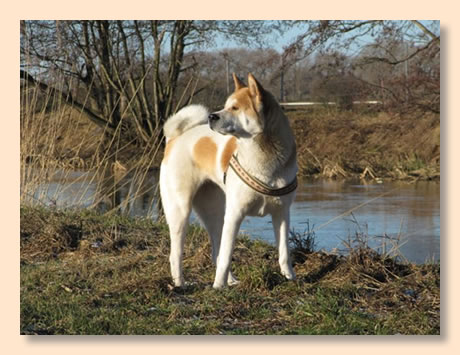 Hello after Ohorn!
Somewhat belatedly, the warmest congratulations to the H-litter puppies, (the now "slightly" larger ones) and their owners!
Hira is magnificent. For birthday presents, there were 2 new harnesses and homemade dog biscuits. Guess what was more interesting.
Her hunting instinct is very strong, that means looking far ahead what is still very possible in the plains. Other dogs are fixed and differentiated by friend and foe. The gender does not play any role. Frolicking is what counts.
Greetings from Pasewalk!