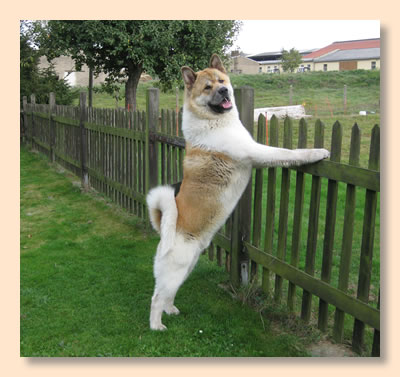 Today we celebrate our junior's first birthday. When we remember the first pictures of him and the sweet ball of wool that we picked up in Czarny Dunajec, it's hard to believe what a powerful and imposing American Akita he has become.
In every way Shadow is something unique for us and never before we had or have bred an American Akita that was similar. Right from the start we were fully streched cause of Shadow's lively and hot temper, and his never-ending zest for action caused some trouble in our family pack.
Shadow is incredibly curious and likes to control everything in and around our house.
He is very alert and shows us whenever there is something unusual beyond our fence.
He is well-behaved in our dog school and usually does what he is told to do.
Apart from that he behaves very differently. In his territory – and that includes not only our garden but all the paths around Ohorn where we go for a walk – he feels like a macho and grumbles to all quadrupeds, no matter if male or female. On neutral terrain he is relaxed and mostly ignores other dogs. Also, in a reastaurant he can be good and waits quietly under our table.
Smooching with Shadi is so much fun and he really enjoys those minutes.
All in all we can say that we never want to miss Shadi again. He is a part of our family and has brought a lot of joy, variety and topics for conversations into our daily routine. He is not quite ready, of course, and still has to learn some good manners, but with repose, calm and consistency we will manage it.
2 Comments