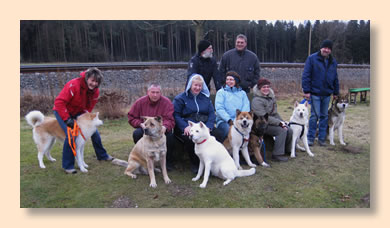 Hello dear Akita friends,
We wish you all a happy new year 2012, and especially health, happiness and above all joy with your doggies.
Enjoy the hours with your four-legged friends as well as our good old group of Akita dogs in our dog school, which you can see in the photo. And these are, from left: Ute with Eishinyoo, Heiko and Akyo, Carmen with Bea, the two of us with Shadi and Jane, Jens, Raina with Ginkou and Christoph with Eichi.